Ballistic XL (14 3/4 x 22") MICHIGAN WHEEL® RH Propeller, 953522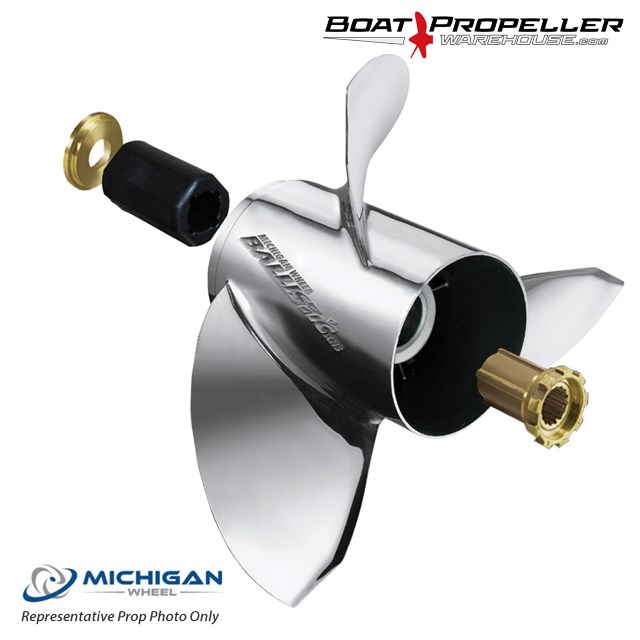 click on image for larger view
Ballistic XL (14 3/4 x 22") MICHIGAN WHEEL® RH Propeller, 953522
Product Description
The NEW Ballistic XHS propellers offer unsurpassed stainless steel performance at an affordable price. Ballistic XHS propellers still feature the proven Power Tip for peak efficiency, which combines with aggressive cupping to improve bite and reduce power losses caused by cavitation. Highly cambered blade sections provide for higher speed, and better bow lift.
Ballistic XHS propellers offer the characteristics and performance of racing style propellers, without the huge price tag.
Ballistic XHS 4-Blade propellers are now available.
Sold Separately: Drop-In XHS Hub Kit
NEW! Ballistic XHS propellers utilizing Michigan Wheel's XHS Hub System.
Tapered leading edges minimizes drag.
Blade tip and cup combine to improve bite and reduce power losses from cavitation.
Performance characteristics of racing style props.
Maintains optimum blade strength and thickness.
Highly cambered blade provides higher speed and better bow lift.
Recommended Boat Applications: Bass Boats, Bay Boats, Flats Boats, Sport Boat Singles, Sport Boat Duals, Skiboats, Pontoons
Evinrude Johnson

: 200 & 225 HP - Johnson - 4 3/4" Gearcase

Thru Hub Exhaust & 15 Tooth Spline

May interfere with trim tab.


Use XHS II Hub Kit 204
200 HP 4-Stroke 2004 - 2005
225 HP 4-Stroke 2004 - 2005
Evinrude Johnson:

150 - 300 HP - Evinrude E-TEC® G2 Gearcase

Thru Hub Exhaust & 15 Tooth Spline

Use XHS II Hub Kit 228
150 HP G2 2016 and Newer
150 HP H.O. G2 2016 and Newer
175 HP G2 2016 and Newer
200 HP G2 2016 and Newer
200 HP H.O. G2 2014 and Newer
225 HP G2 2014 and Newer
225 HP H.O. G2 2014 and Newer
250 HP G2 2014 and Newer
250 HP H.O. G2 2014 and Newer
300 HP G2 2014 and Newer
Evinrude Johnson

: 90 - 300 HP - V6 (4 3/4") Gearcase (Includes E-TEC® & E-TEC® H.O. 25" Shaft Length)

Thru Hub Exhaust & 15 Tooth Spline

Use XHS II Hub Kit 200 / 201

For engine applications 1976 - 1990 use XHS II (Drop-In Hub) Kit #201

For engine applications 1991 and Newer use XHS II (Drop-In Hub) Kit #200

For engines 300 HP or higher, use "High Horsepower Sleeve" Part # 991372

90 HP 1995 and Newer
90 HP E-TEC® (25" Shaft Length) 2004 and Newer
100 HP Commercial 1984 and Newer
115 HP 1995 and Newer
115 HP E-TEC® (25" Shaft Length) 2004 and Newer
115 HP Pontoon Series 2014 and Newer
120 - 140 HP 1985
130 HP 1995 - 1996
130 HP E-TEC® (25" Shaft Length) 2009 - 2010
135 HP 2014 and Newer
140 (25") HP 1989 - 1994
150 HP Commercial 1995 and Newer
150 HP (Includes E-TEC® ) 1978 and Newer
150 HP Pontoon Series 2014 and Newer
155 HP Commercial 1978 and Newer
175 HP (Includes E-TEC®) 1977 and Newer
185 HP 1984 - 1985
200 HP 1976 and Newer
225 HP (Includes E-TEC®) 1986 and Newer
235 HP 1978 - 1985
250 HP (Includes E-TEC®) 1991 and Newer
275 HP 1986 - 1988
300 HP 1988 - 1995; 09 and Newer
2.6 Liter 1984 - 1985
3.6 Liter 1986 - 1987
Honda

: 115 - 250 HP - 4 3/4" Gearcase

Thru Hub Exhaust & 15 Tooth Spline

Use XHS II Hub Kit 207
BF 115 2011 and Newer
BF 135 2004 and Newer
BF 150 2004 and Newer
BF 200 2002 and Newer
BF 225 2002 and Newer
BF 250 2012 and Newer
Mercruiser, Alpha One, Bravo One

: 4 3/4" Gearcase

Thru Hub Exhaust & 15 Tooth Spline

Use XHS II Hub Kit 202

Replace standard trim tab with Michigan Wheel trim tab Part # 990404

For engines 300 HP or higher, use "High Horsepower Sleeve" Part # 991372

Models 1A, 1B, 1C Thru 1982
Models 120, 140, 145 DTS Thru 1982
Models 165, 228, 470, 485, 888, 898 Thru 1982
Models 225S, 233, 255TRS Thru 1982
Models 260, 280TRS, 330TRS Thru 1982
120 - 190 HP Mercruiser® 1983 - 1985
200 - 260 HP Mercruiser® 1983 - 1985
Alpha One™
2.5L - 5.7L Alpha One™ All Years
6.2L MPI Alpha One™ All Years
262, 350, 454 Magnum All Years
320 EFI Alpha One™ All Years
Bravo One™ (Bravo One & Bravo One X Drives only)
320 EFI, 350, 377 Bravo One™ All Years
5.0L - 7.4L Bravo One™ All Years
D2.8L - D7.3L (Diesel) Bravo One™
Mercruiser - Sterndrives

: Bravo One - Over 365 HP (Solid Hub) - 4 3/4" Gearcase

Thru Hub Exhaust & 15 Tooth Spline


Replace standard trim tab with Michigan Wheel trim tab Part # 990404

Use XHS II Hub Kit 202SH
454 Magnum (385 HP) 1995 and Newer
496 Magnum (375 HP) All Years
496 Magnum H.O. (425 HP) All Years
502 Magnum (390 - 415 HP) 1990 and Newer
450 HP 1995
465 HP 1991 and 1994
Mercury, Mariner

: 90 - 300 HP V6 (4 3/4") Gearcase

Thru Hub Exhaust & 15 Tooth Spline

Add 4" Pitch For Twin Motors. Includes DFI, EFI, Magnum, Offshore, Optimax, Sea Pro XR1, Marathon and Verado

Replace standard trim tab with MIchigan Wheel trim tab Part # 990404

For engines 300 HP or higher, use "High Horsepower Sleeve" Part # 991372
90 HP Command Thrust 2014 and Newer
115 HP Command Thrust 2014 and Newer
135 HP 1987 and Newer
150 HP 1978 and Newer
150 HP (Yamaha®) 1979 - 1983
175 HP 1978 and Newer
175 HP (Yamaha®) 1978 - 1979
200 HP 1978 and Newer
220 HP 1987 - 1988
225 HP 1980 and Newer
225 HP (Sea Pro/Marathon) All Years
250 HP 1994 and Newer
275 HP 1990 - 1994
300 HP 1983; 1999 and Newer
3.4 Litre 1984 - 1986
Nissan, Tohatsu

: 115 - 250 HP - 4 3/4" Gearcase

Thru Hub Exhaust & 15 Tooth Spline

Use XHS II Hub Kit 207
BFT115 2014 and Newer
BFT150 2014 and Newer
BFT200 2014 and Newer
BFT225 2014 and Newer
BFT250 2014 and Newer
Suzuki

: 150 - 300 Horsepower - 4 3/4 Gearcase

Thru Hub Exhaust & 15 Tooth Spline

Use XHS II Hub Kit 204

May interfere with trim tab

For engines 300 HP or higher, use "High Horsepower Sleeve" Part # 991372
DT 150 1986 - 2003
DF 150 4-Stroke 2006 and Newer
DF 150TG 2014 and Newer
DT 175 1987 - 1992
DF 175 4-Stroke 2006 and Newer
DT 175TG 2014 and Newer
DT 200 1986 - 2000
DF 200 4-Stroke 2004 and Newer (Listed propeller diameters are slightly less than OEM propeller)
DF 200A 4-Stroke 2015 and Newer
DF 200AP 4-Stroke 2015 and Newer (Listed propeller diameters are slightly less than OEM propeller)
DT 225 1986 - 2003
DF 225 4-Stroke (Listed propeller diameters are slightly less than OEM propeller)
DF 250 4-Stroke (Listed propeller diameters are slightly less than OEM propeller)
DF 250AP 4-Stroke 2014 and Newer (Listed propeller diameters are slightly less than OEM propeller)
DF 300 4-Stroke (Listed propeller diameters are slightly less than OEM propeller)
DF 300AP 4-Stroke (Listed propeller diameters are slightly less than OEM propeller)
Yamaha

: 150 - 300 HP - 4 3/4" Gearcase

Thru Hub Exhaust & 15 Tooth Spline - Replaces Yamaha "M" or "T" Series Propellers

Use XHS II Hub Kit 203

May interfere with trim tab

For engines 300 HP or higher, use "High Horsepower Sleeve" Part # 991372
150 HP 1986 and Newer
F150 4-Stroke 2004 and Newer
175 HP 1984 and Newer
F175 4-Stroke 2014 and Newer
200 HP 1984 and Newer
200 HP V MAX® 2001
F200 4-Stroke 2002 and Newer
VF20 V MAX® SHO 2010 and Newer
220 HP (Special) 1984 - 1985
225 HP (Excel) 1987 - 1988
225 HP 1986 and Newer
F225 4-Stroke 2002 and Newer
VF225 V MAX® SHO 2010 and Newer
F225 Offshore 2010 and Newer
250 HP 1990 and Newer
250 HP V MAX® 2001
F250 4-Stroke 2002 and Newer
VF250 V MAX® SHO 2010 and Newer
F250 Offshore 2010 and Newer
300 HP 2004 - 2007
F300 Offshore 2010 and Newer