Raker H.O. (14 1/2 x 24") EVINRUDE® JOHNSON® RH Propeller, 177305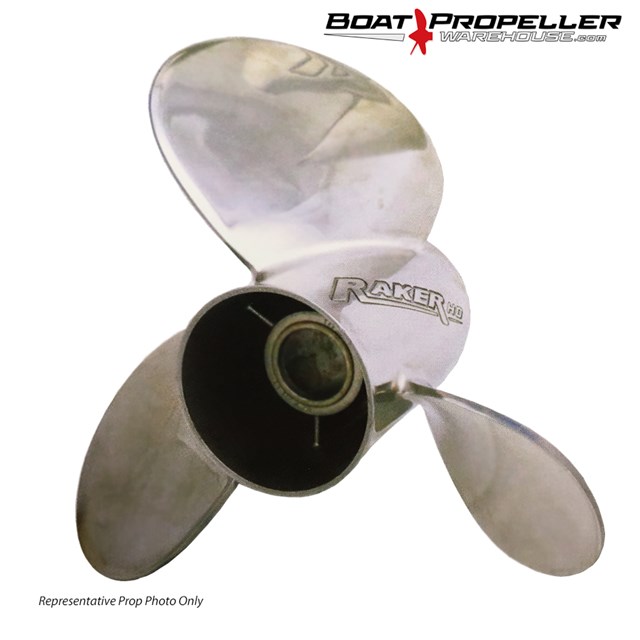 click on image for larger view
Raker H.O. (14 1/2 x 24") EVINRUDE® JOHNSON® RH Propeller, 177305
Product Description
Fast, Fast, Fast. The Raker legend lives on with the Raker® H.O. The Raker propeller line has always set the highest standard in top speed performance. The Raker® H.O. is the next evolution in the line maximizing the superior power and torque of the Evinrude® E-TEC® G2 outboard and every V6 Evinrude®/Johnson® before it. Tight tolerances, precision manufacturing, and hand finishing - move the Raker® H.O. one step closer to a high performance custom propeller.
Hub Kit not Included.
Purchase Separately; G2 TBX™ bushing kit - Evinrude® E-TEC® G2 2015-thru #767683
OR Purchased Separately; TBX™ bushing kit - Evinrude® V6 Outboards 1976-2015 #177283
Complimenting the legend are the new Variable Vent Ports (VVP) for custom acceleration calibration. Set your boats hole shot from mild to wild.
Stainless Steel V6 135-300 HP & 90-130 HP, 25" Shaft, 2-Stroke
15 Spline

90 & 115 HP Evinrude® E-TEC®, 25" Shaft, 2004-thru

100 HP, 2004-thru

100 HP Commercial, 1984-thru

120 & 140 HP, 1985

130 HP, 1995-1996

130 HP Evinrude® E-TEC®, 2009-2010

135 HP, 2000-thru

140 HP (25"), 1989-thru

150 & 155 HP Commercial, 1978-thru

150-300 HP, Evinrude® E-TEC®, 2004-thru

175 HP, 1977-thru

185 HP, 1984-1985

200 HP, 1976-thru

225 HP, 1986-thru

235 HP, 1978-1985

2.6 liter, 1984-1985

250 HP, 1991-thru

275 HP, 1986-1988

300 HP, 1988-thru

3.6 liter, 1986-1987

Evinrude® E-TEC® G2, 2015-thru

Note: All V6 stainless steel propellers, fitted to Evinrude® E-TEC® G2 outboards require additional purchase of custom fit G2 TBX™ hub kit #767683