Vortex (10 x 16") MICHIGAN WHEEL® RH Propeller, 992409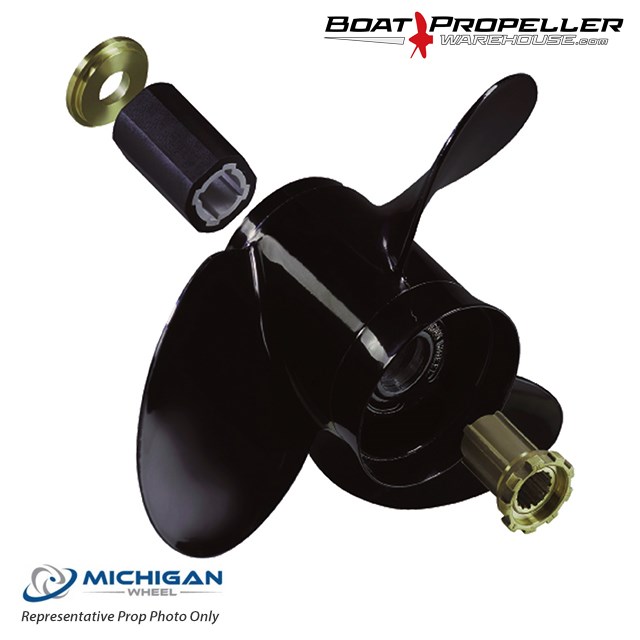 click on image for larger view
Vortex (10 x 16") MICHIGAN WHEEL® RH Propeller, 992409
Product Description
A high performance aluminum propeller utilizing the XHS Xchangeable Hub System, Vortex propellers feature high performance blade geometry, precision balanced blades and high gloss powder coat. Available for a full range of applications (9.9 HP thru V6/V8 Outboard & Sterndrive), Vortex propellers are a great choice for a replacement or spare propeller.
Due to popular demand, we have extended our new Vortex 4-blade outboard propellers series. The new Vortex 4-blade propellers are designed to provide an increase in hole shot, without the sacrifice of top-end speed. The brand new, aggressive blade geometry combines with added cup for peak acceleration and grip, while a reduced diameter helps maintain top-end speed.
With equivalent or increased performance over OEM, at a lower cost, Vortex V4 outboard 4-blade propellers are ideal for pontoon, and deep-v aluminum fishing boats.
Sold Separately: Drop-In XHS Hub Kit
Improved powder coating and beefier bushing
Perfect replacement propeller
Available in aluminum
Recommended Boat Applications: Inflatables, Aluminum Consoles, Walleye Boats, Offshore Singles, Pontoons, Skiboats, Family Cruisers, Workboats, Houseboats
Evinrude Johnson:

40 - 50 HP - Johnson - 3 1/4" Gearcase

Thru Hub Exhaust & 13 Tooth Spline

Use XHS Hub Kit 115
40 HP 4-Stroke 1999 - 2005
50 HP 4-Stroke 1999 - 2005
Force, Chrysler, US Marine:

40 - 75 HP - 3 1/4" Gearcase

Thru Hub Exhaust & 13 Tooth Spline

Use XHS Hub Kit 114
40 HP 1995 - 1998
50 HP 1995 - 1998
70 HP 1991 - 1995
75 HP 1996 - 1998
Honda

: 35 - 60 HP - 3 1/4" Gearcase

Thru Hub Exhaust & 13 Tooth Spline

Use XHS Hub Kit 113
BF 35 1991 - 1994
BF 40 1995 and Newer
BF 45 1991 - 1994
BF 50 / 50A 1995 and Newer
BF 60 / 60A 2010 and Newer
Mercury, Mariner

: 40 - 65 HP - 3 1/4" Gearcase

Thru Hub Exhaust & 13 Tooth Spline

Use XHS Hub Kit 114
40 HP (Model 402) 1974 - 1976
50 HP (Model 500) 1974 - 1976
60 HP (Mariner®) 1976
65 HP (Model 650) 1972 - 1976
Mercury, Mariner

: 25 - 70 HP - 3 1/4" Gearcase

Thru Hub Exhaust & 13 Tooth Spline

Use XHS Hub Kit 114
25 HP 4-Stroke/Bigfoot 1999 - 2005
30 HP 2-Stroke 1994 - 2002
30 HP 4-Stroke 1999 - 2005
30 HP (Sea Pro/Marathon) 1994 and Newer
35 HP 1984 - 1989
40 HP 2-Stroke (Includes Model 402) 1977 and Newer
40 HP 4-Stroke (Not Bigfoot) 1997 and Newer
40 HP (Sea Pro/Marathon) 1977 and Newer
45 HP 1986 - 1989
48 HP (Mariner®) All Years
50 HP 2-Stroke (Includes Model 500) 1977 and Newer
50 HP 4-Stroke (Not Bigfoot) 1995 and Newer
55 HP (Mercury/Sea Pro/Marathon) 1995 and Newer
60 HP 2-Stroke 1978 and Newer
60 HP 4-Stroke (Not Bigfoot) 2001 and Newer
70 HP (Includes Model 700) Thru 1983
Nissan, Tohatsu

: 35 - 50 HP - 3 1/4" Gearcase

Thru Hub Exhaust & 13 Tooth Spline

Use XHS Hub Kit 116
35 HP (35B Only) Thru 1984
40 HP (Includes TLDI; 40C; M40D; MD40) 1984 and Newer
MFS40 2015 and Newer
50 HP (Except 50C - Includes TLDI; M50D; MD50) 1992 and Newer
MSF50 2015 and Newer
BFT60 2014 and Newer
Yamaha

: 25 - 60 HP - 3 1/2" Gearcase

Thru Hub Exhaust & 13 Tooth Spline - Replaces Yamaha "G" Series Propellers

Use XHS Hub Kit 117
T25 HP 2010 and Newer
F30 4-Stroke 2001 - 2005; 2015 and Newer
40 HP (Includes 40C) 1984 and Newer
F40 4-Stroke 1999 and Newer
48 HP 1995 - 2000
50 HP (Not T50) 1984 and Newer
F50 4-Stroke 1995 and Newer
55 HP 1976 - 1995
60 HP 1976 - 1991
F60 4-Stroke 1999 and Newer